Thanks for visiting the Hostel Conference 2013 site. The online registration is now closed.

If you have any questions about the Conference or Hostel Awards Ceremony 2013, please feel free to contact your Hostelworld Account Executive or email us at hwconference@hostelworld.com.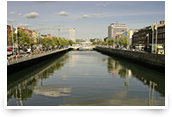 Welcome to the 2013 Hostelworld.com Conference and Awards
After the success of our last event we are returning to the Convention Centre in Dublin City Centre for the 2013 Hostelworld.com Conference. Following feedback we are extending the 2013 conference to 2 days, which will mean more industry speakers covering topics relevant to you and more time both to network and to meet with your Hostelworld representative.
So how will it work?
We will be kicking off our event on Wednesday evening, the 20

th

February, with welcome drinks in Dublin's iconic Guinness storehouse.
On Thursday and Friday our conference will take place with key note presentations from industry speakers on topics relevant to the travel industry in 2013.
You will also have the opportunity to network with other hostels and with your Hostelworld representative during pre-arranged sessions on both the Thursday and Friday.
Finally this year's Hostel Awards will also take place Thursday night February 21

st

and promises to be a fantastic night with good food, entertainment and of course the all important 11

th

annual Hostel Awards ceremony where we celebrate the top hostels worldwide in 2012.
In 2013 we hope to bring you our biggest and best conference yet! We hope you can join us and share your knowledge and information to make this a really worthwhile industry event. We look forward to meeting you in Dublin.